Educational Philosophy
At Pan-American School, we believe that:

An international learning community comprises teachers, staff, students, and parents who are committed to the formation of GLOBAL CITIZENS prepared to face the challenges of living in and contributing to an increasingly globalized world.
LEARNING is an active and lifelong process in which all members of our educational community participate and strive for excellence.
A well-rounded education includes logical reasoning, languages, artistic sensitivity, social awareness, physical and mental health, and critical thinking. It allows for the nurture of each person's special interests, qualities, and talents through real-life learning EXPERIENCES and diverse educational OPPORTUNITIES.
The acquisition of SKILLS and KNOWLEDGE should be applied to the development of a social conscience and a commitment to peace, democracy, cultural diversity, and service to humanity.
A stimulating learning ENVIRONMENT includes a safe, comfortable, and attractive campus, and a supportive and happy atmosphere.
The continuous practice of VALUES shapes the moral-ethical and spiritual character of each person.
Objectives
To promote the development of the investigative spirit using scientific and technological tools.
To provide a challenging international academic program.
To prepare fully bilingual students in English and Spanish.
To promote international-mindedness and cross-cultural experiences.
To foster a commitment toward conservation and sustainability of natural resources.
To implement strategies leading to responsible behaviors in the areas of sexuality, alcohol, and drugs.
To promote health and balance among mind, body, and spirit in a safe, happy, and supportive learning environment.
To engage students through an interdisciplinary approach to learning.
To reinforce the concept that learning can be fun.
To stimulate creativity, reflection, and critical thinking as part of the process of gaining knowledge and achieving excellence.
To strengthen self-confidence, autonomy, and a desire to learn in an environment of respect and freedom.
To foster leadership qualities and social commitment.
To prepare students for career decision-making and support them in seeking admission to the college of their choice.
Our Approach to Learning and Teaching
At PAS our Vision for Learning is that every child is empowered in a personalized, life-long journey of holistic growth which inspires a love of learning, the pursuit of excellence, and helps students unleash their passions.

In order to achieve this, At Pan-American School we develop students:
Self-management skills to become independent learners able to develop their own lines of inquiry and their learning journey.

Research skills, to be able to seek out, evaluate, understand, and apply new knowledge and learning in new settings.

Thinking skills, to become critical thinkers.

Communication skills, to communicate in different languages and approaches, depending on the context.

Social skills, including face to face and using online learning platforms.
Programmes
All students at our school, from PlayKids to Grade 12 benefit from the IB curriculum and philosophy.


Early Childhood Education (ECE)
Our ECE program begins at age 18 months with PlayKids, and continues with PreKinder for students from 2-3 years old, Kinder for students 3-4 years old, and culminates with Preparatory for students 5-6 years old.

The program emphasizes an inquiry and play-based approach to learning and exploring our world. Each student has a unique learning and developmental journey. Our classrooms and curriculum are designed to connect with the natural world, provide flexible and engaging opportunities to captivate the children, and give the students agency over their learning and growth. Student academic, social, and emotional growth is documented in a digital portfolio with students and teachers deciding together the videos, photos, anecdotes, writing samples, and reflections on the child's learning.
Primary Years Programme (PYP)
Our Primary Years Programme begins with PlayKids and continues through the 5th grade. Classes are taught transdisciplinary, integrating subjects through concepts and central ideas rather than content. Students develop skills in visual arts, technology integration, music, design, mathematics, spanish and english language, social and emotional learning, and physical health and well-being.

Our PYP program ensures that learning is engaging, relevant, challenging, and significant. This is accomplished using a transdisciplinary approach between, across, and beyond subjects. The curriculum is organized into six transdisciplinary themes established by the International Baccalaureate Organization (IBO).
Middle Years Programme (MYP)
The Middle School includes grades 6 through 10. Classes are taught through conceptual understanding, skill development, and interdisciplinary connections across subjects. Courses include Language and Literature in both English and Spanish, Language acquisition in both English and Spanish, Design, Music, Visual Arts, Physical and Health Education, Individuals and Societies, Integrated Sciences, and Integrated Mathematics.
The curriculum is based on the Middle Years Programme, a challenging framework that encourages students to make practical connections between their studies and the real world. The MYP curriculum includes eight subject groups, providing a broad and balanced education. It is designed to support students as they transition from Primary School to High School, encouraging them to think analytically, rise to new academic challenges, identify personal strengths, work effectively in teams, and continuously strive for success.
Students start the day with a Fitness Program, in which they choose the activity that best suits their interests and needs.
After completing the Middle Years Programme (MYP) students enter Grade 11, where they can pursue all or various combinations of three certifications: the International Baccalaureate (IB) Diploma Programme (DP); the U.S. High School Diploma (HS); and the Bachillerato en Educación Media Diploma from the Costa Rican Ministerio de Educación Pública (MEP). The Diploma Program (DP) aims to develop students who have excellent breadth and depth of knowledge – students who flourish physically, intellectually, emotionally and ethically.
The DP is made up of six subject groups and the DP core, comprising theory of knowledge (TOK), creativity, activity, service (CAS) and the extended essay.
Participation in sports and fitness is a pillar of Pan-American School's program and we offer all students from ECE to Grade 12 the option to participate in a range of sports and fitness activities in the morning or afternoon. Our sports program includes participation in national and international tournaments in soccer, basketball, volleyball, and cross-country . This includes local and international events, organized through our membership in the Association of American Schools of Central America (AASCA) and the Asociación de Centros Educativos Privadas (ACEP). Competitive sports teams in Secondary School practice early in the morning, before the beginning of the school day.
We are proud of Pan-American School's record of national and international trophies.
Education Beyond the Classroom and Learning Support Services
Library and Research Center
Science Laboratories
Audio Recording Studio
Sports Facilities
Co-curricular classes and Opportunities
Learning Support Services
Counseling and Psychological Services
College and Career Counseling
Learning Specialists
Service Learning and Community, Activity and Service (CAS)
Ecological Programs
Health Services
Language Support
Tutoring and Special Needs Services
Maker space
Model United Nations (MUN)
MUN is an internationally recognized program that simulates the activities of the United Nations. During MUN Conferences, students take on the role of a diplomat from an assigned country and work together with other committee members to build a consensus to solve past, current, or future global issues across all disciplines. Model UN delegates hone their speaking, listening, writing, collaboration, negotiation, and investigation skills. Pan-American School students participate in both national and international conferences, as well as host an annual conference. The PASMUN Conference consistently has over 300 participants and has had schools from 8 different countries participate over the past several years.
School Awards
At Pan-American School, outstanding performance aligned with our philosophy, values and the attributes of the IB Learner Profile are recognized through various awards. Each year, the Mister Scholarship is awarded to the student who best exemplifies PAS values, and has demonstrated excellence in their learning over the course of their Middle School years (Grade 6 to Grade 8). Current students who are recipients of this award are:
Mariana Hernández Bueno (2020), class of 2024

Marianne Weber Arroyo (2021), class of 2025

Emil Shadid Zumbado (2022), class of 2026 and

Daniela María Matamoros Aguilar (2023), class of 2027.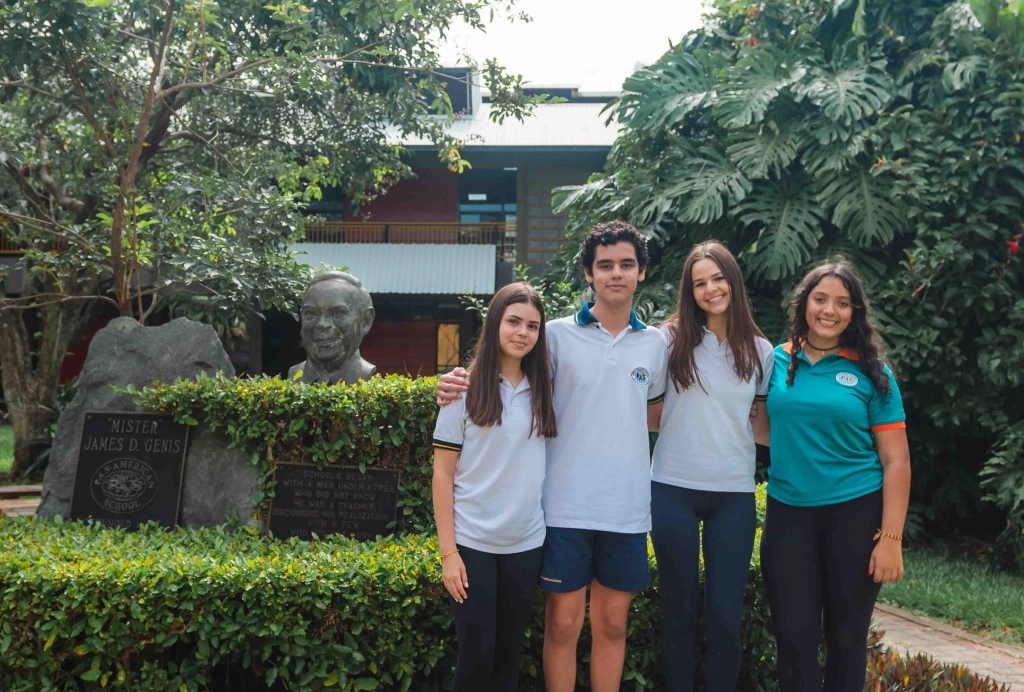 A number of additional awards celebrate student development across a range of areas.